A comfortable bridge between classical and modern designs, our range of Three Seater Sofa cum Beds offer luxury and comfort at the same time. Most of our mechanisms have more than the basic sitting and sleeping positions and have plenty of variations to offer in a single sofa bed. We aim to create beautiful and multifunctional furniture that has a place in every modern urban home. True to their name, our extraordinary convertibles expand swiftly from sleek contemporary sofas to plush beds without any hassle. Intelligently designed with sophisticated mechanisms, our double sofa cum beds come with fitted mattresses at a standard bed height which ensures maximum comfort and support while sleeping. So you can now maximize and decorate even your small spaces with innovative and compact sofa bed options from Woodage. Many of them have been inbuilt with added features such as headrests, extendable coffee tables, back inclining options and revolving functions to ensure that the customer has a wide range to choose from to meet their requirements. We realize that every home is different and offer our clients the option to get their Sofa cum Beds customized to the very last detail starting from design to upholsteries. Our range of double bed sofa cum beds are designed keeping in mind functionality and space utilization and are ideal for hotels, resorts, guest houses, and residences.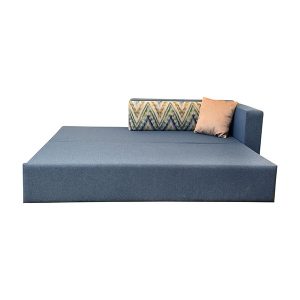 An elegant one arm chaise lounge never goes out of style, especially when combined with functionality. This Diwan cum Bed is also available in a single bed option.
– In case of corporate or bulk orders, get in touch for project prices.